Nursing Careers with At Your Side Homecare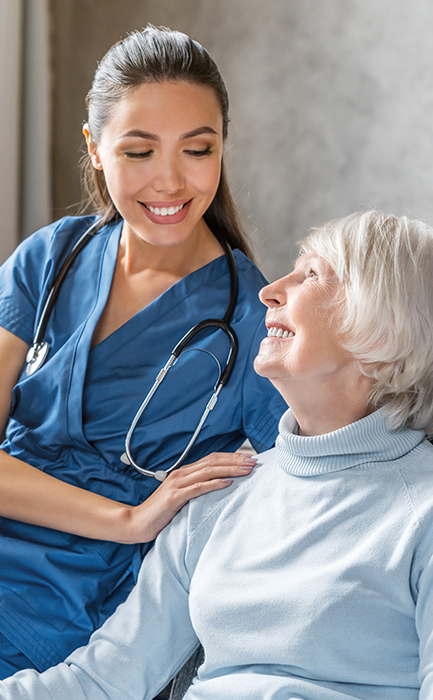 The At Your Side Nursing Care Difference
As a Nurse, you will have the opportunity to help clients age in place safely by helping to build and lead a team of caregivers. By utilizing your nursing skills and knowledge, you can impact the lives of clients, their families and the caregivers who provide hands-on services. Your day-to-day will include assessing clients to create individualized care plans, auditing client and caregiver records and educating caregivers.
At Your Side strives to provide safe and competent care for all of our clients and believe this begins with you, the Nurse. We value your expertise and clinical judgment when it comes to addressing a client's needs so they can stay at home as long as possible and provide peace of mind to their family and loved ones.
At Your Side provides the training and support to help you be a successful team leader. We will deliver a nurse-led training course to cover all aspects of your role and review all of the resources available to you including additional training courses, our clinical procedure manual and the team available to help support you in your new role.
Take the next step in your nursing career. With At Your Side, you'll be a team leader with a flexible schedule and the opportunity to grow with an organization. Whether you're looking to work full-time or just a few hours each day, we have opportunities to meet your needs.
Live your best life possible by helping others live theirs.
Your safety is our top priority. We provide COVID-19 training and personal protective equipment (PPE) to all employees.
---
We Tailor Our Care to Meet Our Clients' Needs
Some of the activities you may be expected to perform include:
---

Wound Care
Wound assessments, dressing changes, wound irrigation and negative pressure wound therapy can all be provided by the skilled nurse in conjunction with the physician's orders for wound treatment.

IV Infusions
Provide Intravenous (IV) infusions and medications or assist with teaching the senior or family member how to self-administer them.

Tracheostomy Management
Daily cleaning and suctioning coupled with specialized training in emergency tracheostomy care to help reduce infections and ensure that your client is safe at all times.

Feeding Tube Management
Whether it's a gastrostomy, jejunostomy or nasogastric (NG) feeding tube, our skilled nurses provide the daily maintenance of the feeding tube plus the administration of various medications, fluids and supplemental nutrition
through it.

Home Ventilator Management
Provides constant oversight of your client on a ventilator. Manage equipment care, and work collaboratively with your client, your client's physician, and the durable medical equipment (DME) company providing the equipment to the home.

Transitional Care
Work in conjunction with your client's medical team, family members, and caregiver to create a personalized care plan for recovery or transition into home care, while helping to prevent re-hospitalization.
---
Start your rewarding career with At Your Side.