When Caregiving Becomes a Calling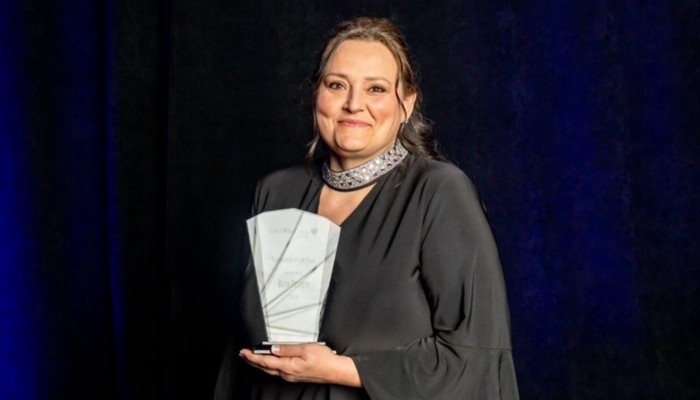 Beth Trivett has been a caregiver most of her life.
From taking care of her four children, to caring for her great aunt at the end of her life, to most recently becoming the primary caretaker for her sister who is injured from a car accident, Beth is the backbone of her family.
"I'd stay with my aunt every day from 8 a.m. to 5 p.m., fixing her meals and feeding her, making sure she showered, helping her get dressed, driving her to her doctor appointments, counting her medication and keeping her company. It was an around-the-clock job," said Beth.
This is what caregiving looks like for a skyrocketing aging population. Family caregivers provide the majority of in-home care but only 7% receive any sort of training. And what about when you live in a different town or have a full-time job? What about when you're already pressed with caring for your own kids, let alone aging relatives? It's known as the "sandwich generation," and can take a toll on the caregiver in the middle.
"When my aunt required help, my family and I realized we couldn't do it alone," said Beth. "I needed to be able to go home and take care of my children, so we hired ComForCare to step in. I trained the caregiver exactly how to care for my aunt in my absence."
That's when Mike Sluder, owner of ComForCare near Nashville, observed how Beth cared for her aunt. He saw instantly that she possessed the qualities he wanted on his team and offered her a position at his ComForCare franchise as a professional caregiver.
"We observed the way Beth instinctively knew exactly what her aunt needed and the trust and bond between the two of them," said Sluder. "We saw right away she was an A+ caregiver. There is no value you can put on Beth's heart and compassion for others."
Caregiving in High Demand
With the number of older Americans on track to outnumber children under the age of 18 by 2035, caregivers are needed more than ever.
According to the Bureau of Labor Statistics, from 2016 to 2026, there will be 7.8 million direct care openings and the direct care workforce (personal care assistants, paid caregivers, home health aides, and nursing assistants) will be larger than any single occupation in 2026.
Why Become a Caregiver?
Many people, like Beth, get into caregiving as a profession after being a caregiver for a family member. Other times, they are looking for a more meaningful job where they can see the direct impact. In-home caregiving meets that need with one-on-one relationship building and the opportunity to become an essential support system for a family.
Another benefit of becoming a caregiver is to have more flexibility. A caregiver can work their schedule around the client's needs.
And while caregiving is a rewarding career, it's also a great foundation for those interested in pursuing other opportunities within the health care and senior-related industries such as nursing, occupational therapy or case management. In addition, caregiving skills such as empathy, problem-solving and strong communication are essential no matter what path one takes.
For a caregiver to be successful, they need to respect their clients, have a heart for helping people, and have the ability to anticipate a client's needs. It's these characteristics that can set a caregiver apart from the rest — like Beth. And for that, caregivers should constantly be reminded that they do important work.
Most recently, Beth was awarded Caregiver of the Year from ComForCare at the organization's national conference. And while it was a true testament to the hard work she puts in every day and the positive effect she's had on her clients and their families, the industry at large is hard-pressed to find more just like her in the workforce.
Watch Beth receive her award here and get her take on what a caregiver's job is like.
For open caregiving positions, see the ComForCare Careers page.