A Beginner's Guide to Alzheimer's Disease & Dementia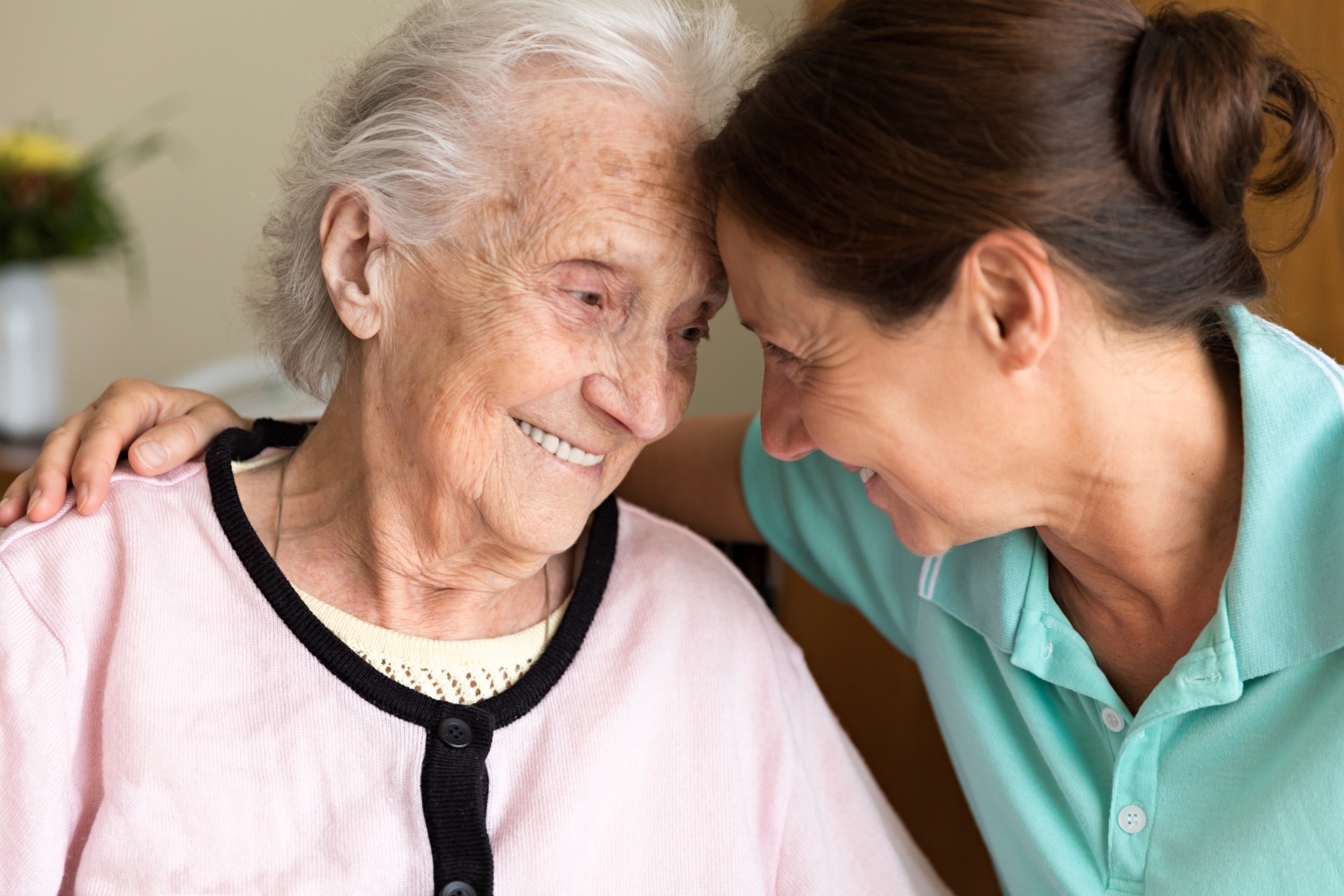 Today, more than 7 million older adults live with dementia in the U.S. As the Baby Boomer population ages, that number could rise to over 9 million by 2030. As anyone who has a family member with Alzheimer's disease or another form of dementia knows, just because these conditions are common doesn't make them easier to cope with. But high-quality dementia care is out there, and families don't have to go on this journey alone!
In honor of Alzheimer's Awareness Month this November, we're taking a moment to talk about dementia: what it is, what to expect, and how you can find the best help and support for your loved one. A dementia diagnosis doesn't mean the end of good days—with the right support and care, you can still enjoy plenty of meaningful moments and happy times together.
What Is the Difference Between Dementia and Alzheimer's?
Alzheimer's disease is a specific form of dementia, accounting for 60–70% of all cases. One of the major physical characteristics of this brain disease is the presence of plaques and tangles in brain tissue. Plaques are clusters of proteins that build up between neurons, and tangles are knots of nerve cells. Together, these issues lead to tissue loss and, over time, cognitive decline.
Dementia is a more general term for various symptoms of decline in a person's cognitive function. There are many other forms and causes of dementia, including:
Lewy body dementia: associated with deposits of a protein (Lewy bodies) that form in the brain and affect brain chemistry
Vascular dementia: changes in the brain resulting from blocked or reduced blood flow
Frontotemporal dementia: characterized by nerve cell loss in the frontal and temporal lobes of the brain
Chronic traumatic encephalopathy (CTE): common in athletes, and associated with repeated head injuries throughout a person's lifetime
What Are the Signs of Alzheimer's Disease?
Part of what makes these conditions so difficult is that symptoms can come on very gradually. Often, the disease begins with what seems like ordinary forgetfulness. But when forgetfulness becomes frequent, interfering with daily life, it's no longer a normal part of aging. A professional assessment can help you find answers and make a clear distinction.
Some symptoms that appear to be dementia actually have other, treatable causes. For example, medication side effects, vitamin deficiencies, and even too much stress can contribute to forgetfulness. An assessment can help you rule out these potential causes. And if Alzheimer's is the diagnosis, early intervention improves your ability to plan for and manage the disease.
Early symptoms of Alzheimer's include:
Memory loss
Trouble thinking, calculating, or making judgments
Difficulty understanding others
Physical changes such as loss of orientation
Diminished ability to learn or speak
Changes in mood or control over emotions
How Do You Take Care of Someone with Alzheimer's?
Every person with Alzheimer's disease, or any other form of dementia, has unique needs. They may require assistance with hygiene, meal preparation, and getting around the house. Above the physical concerns, people with dementia also benefit greatly from consistent routines, meaningful pastimes, and social stimulation.
Without the right support and training, understanding and responding to these needs can be a major challenge. For this reason, many families worry that assisted living facilities or nursing homes are their only options. However, using the latest evidence-based approaches, At Your Side Home Care makes it possible for seniors with memory care needs to live independently at home for longer.
Home-based dementia care gives your loved one the comfort and consistency they need, and eases the burden on family caregivers. In fact, even an extra 6 to 12 months at home can enhance quality of life and outcomes for seniors in the long term.
How At Your Side Makes Home Care Better
Backed by recognition from the Alzheimer's Association and the Duke University Occupational Therapy Program, At Your Side Home Care's DementiaWise® training program empowers our aides to provide the most effective and meaningful care possible. Currently, 95% of our offices are DementiaWise certified, meaning that our caregivers are specially trained to help their clients not just survive but thrive.
Our caregivers understand the disease's progression, catering care plans to each individual's needs, condition, and preferences. We place meaningful connections, safety, and quality-of-life enhancements at the center of everything we do. Our goal is to not only support the everyday tasks of living but to drive passion, happiness, and independence for our clients every day.
We focus on stimulating your loved one's remaining abilities rather than focusing on what they can no longer do. And our techniques are proven to decrease challenging behaviors, helping seniors experience calmer, happier, and more high-functioning days.
Alzheimer's & Dementia Care at Home
Receiving a dementia diagnosis for a loved one is never easy. But you don't have to go through the process alone. Seniors with dementia can lead meaningful lives with the right support from At Your Side Home Care. If you think your loved one may have dementia, download our free guide with more information about what to do and how to get the help your family needs!
At Your Side Home Care DementiaWise: Recognized by the Alzheimer's Association
At Your Side Home Care's dementia care training program and care philosophy, DementiaWise, has been recognized by the Alzheimer's Association. For over 40 years, the Alzheimer's Association has been at the forefront of accelerating global research and making a difference for dementia patients worldwide. If you're seeking quality home care for your loved one, contact your nearest At Your Side Home Care location today!