Home Care vs. Home Health Care: What's the Difference?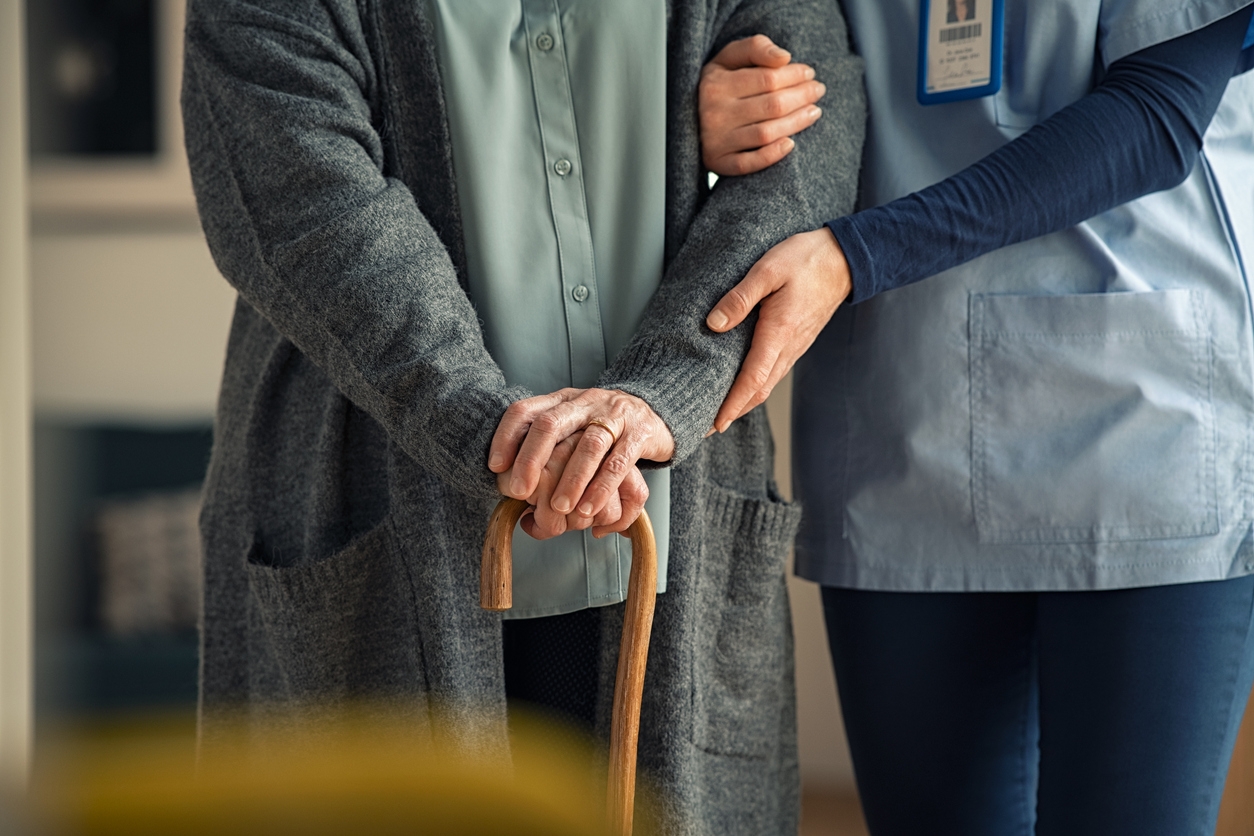 The decision to seek senior care services for a loved one can feel overwhelming. With so many options to choose from, you want to make sure you choose only the best for the person you love. This is especially true if you're worried about honoring your loved one's wishes to keep living at home—which is important to nearly 90% of adults. If you want to make aging in place a reality, you've likely come across two similar senior care options: home care and home health care.
Home Care vs. Home Health Care: A Comparison Guide
While these terms may sound alike, they actually refer to two different services. To help you get a better idea of what these services are and which is best for your family, At Your Side Home Care has created this helpful guide.
What is Home Health Care?
Home health care is a service that provides medical care in a person's home or place of residence. A doctor may prescribe home health care for a person who is recovering from surgery or illness as an alternative to staying at a skilled nursing facility.
In these situations, a medically licensed caregiver will arrive at your home, usually for a few hours per week, to help care for your loved one. They can perform necessary medical services during these times, such as:
Medication administration
Wound care, shots, and IV administration
Speech, occupational, or physical therapy
What is Home Care?
Home care aides offer personal care services to support seniors who don't have serious medical concerns. These services are flexible, meaning they can provide as much or as little care as a person needs and on a schedule that works best for them. Typically, home care is not prescribed by a doctor but is instead used as a way to help seniors age in place safely.
Home caregivers can offer numerous support services, including:
Personal care, including bathing, dressing, toileting, and grooming
Light housekeeping & chores
Transportation to doctor appointments, shopping, and more
Companionship
Home Health vs. Home Care Side-by-Side
| | | |
| --- | --- | --- |
| Service | Home Care Agency | Home Health Agency |
| Medication administration | No | Yes |
| Injury treatment | No | Yes |
| Medical tests, injections, & IV therapies | No | Yes |
| Doctor-prescribed | Sometimes | Yes |
| Medication reminders | Yes | No |
| Help with daily activities | Yes | Yes |
| Personal care (grooming, bathing, bathroom support) | Yes | Sometimes |
| Light housekeeping | Yes | No |
| Transportation services | Yes | No |
| Meal preparation | Yes | No |
| Companionship | Yes | No |
| Memory care for dementia | Yes | No |
| Paying for Home-Based Care | Private pay, long-term care insurance, or VA benefits | Private insurance, Medicare, Medicaid, or Veterans benefits (only as long as eligibility requirements are met) |
The Benefits of Home Care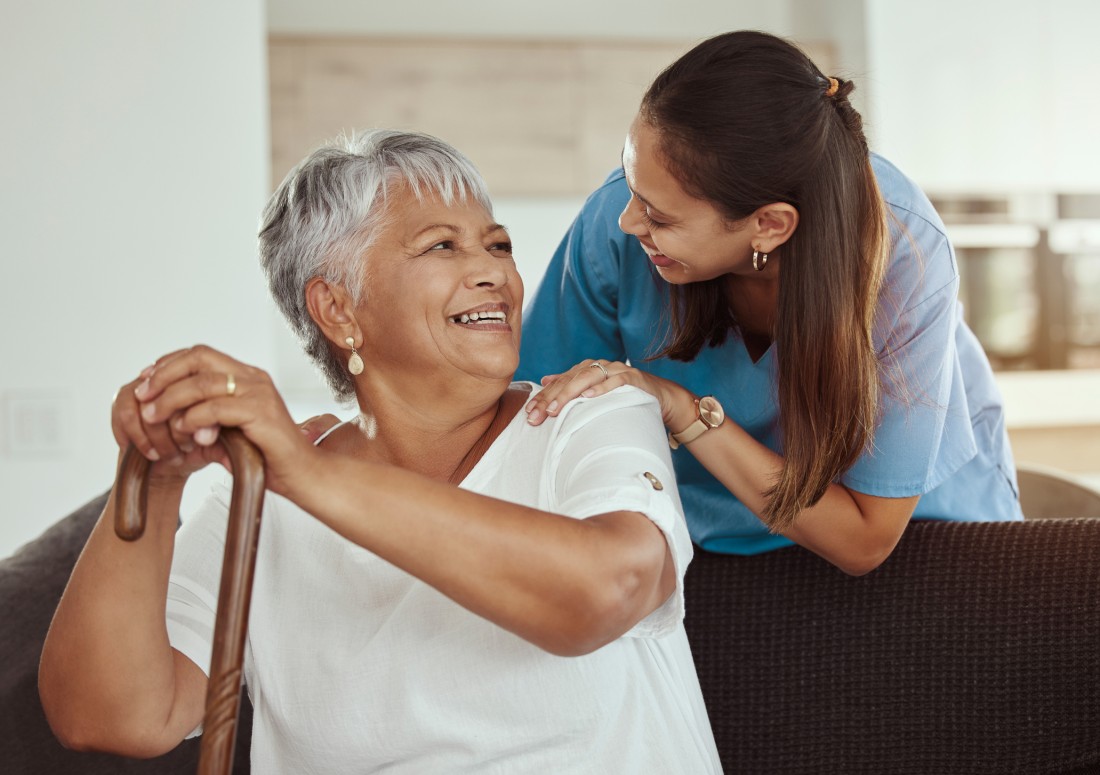 Home care offers numerous, deeply meaningful benefits for older adults who require assistance with some aspects of daily life, but do not require skilled nursing care.
Can Supplement Home Healthcare
Some families choose to supplement a home health program with home care to cover gaps in services. Because home health aides typically only visit for a few hours each week, seniors and their families often need extra support when those aides can't be there.
At Your Side Home Care is ready to be part of your loved one's care team, stepping up to fill important roles whenever we are needed.
Great for Seniors Who Need Support to Stay Independent
Plenty of older adults need some assistance around the house but don't require specialized medical or rehabilitative services. With At Your Side Home Care, your loved one can remain in familiar, comfortable surroundings safely.
Our caregivers support seniors in numerous ways, from preparing nutritious meals to helping out with laundry to preventing fall risks. No matter what services you or your loved one needs, At Your Side Home Care can provide them with respect for independence and dignity.
Flexible Care Whenever & However You Need It
Some families only need a short break from their own caregiving duties. Others hire caregiving services for their loved ones 24 hours a day. With At Your Side Home Care, each family receives a personalized plan designed to meet their needs, schedule, and personal preferences.
Home health services are typically only offered for a set period of time. Once a person no longer meets strict eligibility requirements from their doctor or insurance provider, this kind of care comes to an end. Home care, on the other hand, can continue for as long as you need and want it to.
We offer a range of in-home services to suit many levels of assistance, including:

Develop a True Relationship with Your Caregiver
Home care can be particularly important for older adults who are at risk of isolation or loneliness. The 2019 National Poll on Healthy Aging found that 1 in 3 seniors feel lonely, which has an impact on both their mental and physical well-being. Elder care can be an effective solution.
At Your Side Home Care is committed to making a meaningful difference in seniors' lives. Part of the way we achieve this goal is our unique, patient-centered approach to caregiver matching.
We match each of our clients with a caregiver that most closely aligns with their lifestyle, personality, and needs. When you choose At Your Side Home Care, you'll never be just another name on a list—you'll develop a real relationship with your caregiver.
Support for Chronic Conditions, Including Memory Care for Dementia
While home health care often provides medical monitoring, usually they monitor for very specific complications that may arise after a hospital stay or serious illness. But other aspects of wellness can also benefit from having a home care aide's ongoing perspective.
At Your Side Home Care's caregivers are trained to watch for signs of progression in chronic conditions and illnesses, from heart disease to Alzheimer's disease and other forms of dementia. Through our premier DementiaWise® training program, our employees learn how best to help seniors and their families cope with dementia, navigate its challenges, and optimize the time that families can spend together as the disease progresses.
Finding Home Care Services
If you're not sure what level of care your loved one needs, reach out to your local At Your Side Home Care. Our highly trained and compassionate teams can help you assess your needs and recommend a solution that fits your family's budget and lifestyle. With a wealth of resources and team members who are passionate about helping seniors in their communities, At Your Side is your partner in living your best life.
Choose At Your Side Home Care: Compassionate Senior Care in Texas
With locations throughout the Greater Houston Area, At Your Side Home Care has an amazing senior caregiver near you. To learn more about our services or find your perfect caregiver, reach out to a member of our team today. We're happy to help you navigate transitions of care, answer your questions, connect you with local resources, and so much more.